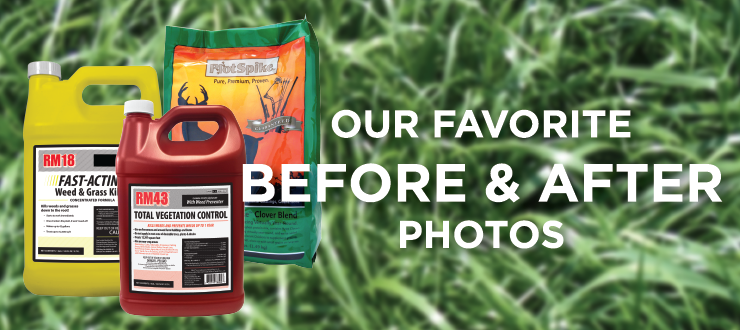 November 13, 2020
Ragan & Massey is at the forefront of the forage seed and agricultural chemical industries. We offer 34 high-quality, innovative products under 12 proprietary brands that are available in over 3,500 stores nationwide. We're proud of our lineup and guarantee our products' effectiveness. But don't just take our word for it, the proof is in the photos.
RM43 Controls Unwanted Weeds and Grasses for Up to a Year
RM43 is made of 43% Glyphosate and offers total vegetation control on bare ground or for spot control on brush, vines and more than 150 weeds. RM43 is arguably one of our toughest herbicides. It not only controls about everything that grows but it keeps it from coming back in a treated area for up to 12 months. That means it is perfect to use along driveways, fence lines, roadsides, curbs, warehouse areas, sideways, parking areas – basically anywhere you want to keep neat and tidy.
That's exactly where Cody Thomas used RM43 on his property. Cody sprayed RM43 along his landscaping, sidewalk and buildings. The results were spectacular, leaving neatly trimmed borders and virtually eliminating all grass and weeds.
William Hester used RM43 to clear brush on his property. After an application, his unwanted growth was eliminated. Here are the before and after photos.
.
RM18 Gives Fast Results
RM18 was specifically designed for lawn replacements, garden bed prep, and clearing weeds from walkways, buildings, and roadsides. Its unique combination of two herbicides kills weeds and plants on contact while leaving fertile soil untouched, making it ideal for lawn and landscape projects. Joey Blaydes used RM18 to clear away unwanted grass and weeds. He was left with landscaping that looked neat and tidy.
RM18 also works fast. Mike McIntyre use RM18 on a patch of weeds and saw the below results in just 24 hours.
Kudzu, wild blackberry, poison ivy, poison oak, crabgrass, and dandelions (and over 100 other plants) are no match for this product. There are no entry restrictions to sprayed areas for pets or people after the spray has dried.
PlotSpike Provides a Better Hunting Solution
PlotSpike deer and turkey food plot seed are designed to draw deer, turkeys and other game to your property. PlotSpike food plots provide supplemental nutrition to local game populations that helps them feed their young, develop throughout the summer and get them through the winter. Food plots encourage higher or healthier game populations. Plus, deer that are given adequate nutrition are less likely to damage the surrounding trees and flora. And food plots offer both erosion control and provide nutrients to the soil. Because PlotSpike offers several varieties, food plots can be planted based on the game, location or sun exposure.
Michael Malloy planted PlotSpike across his property to attract deer. Here are some of his before photos.
And here is a photo after planting. PlotSpike has varieties that allow you to plant your food plot anywhere.
You can find RM43 and RM18 both online and in stores. PlotSpike is available in stores. Go to our Where to Buy page to find them.