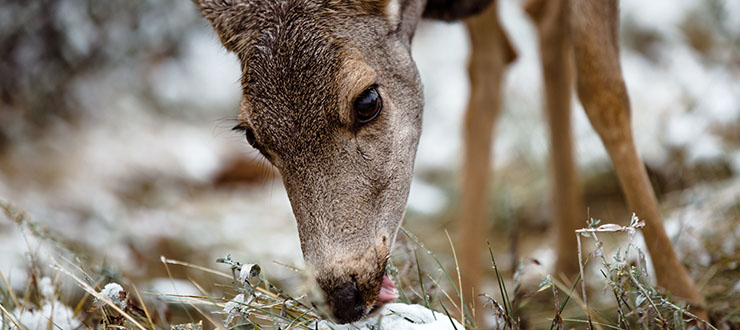 September 4, 2019
For those that love to hunt (and enthusiastically wait for deer season all year) there are a lot of factors that need to come into play to make the season the best it can be including producing a quality herd. Food plots provide necessary nutrition for deer, long into the winter. But food plots also work with existing agriculture.  
Food Plots Protect Surrounding Trees and Flora
Whitetail deer eat nine to twelve pounds of green foliage per day, so they are always about looking for food. And, deer don't like to graze for too long in one place, leaving your fields susceptible to their grazing. But providing quality foliage, like PlotSpike Forage Complete which contains a wide variety of perennial and annual plants including wheat, rye, PlotSpike Forage Oats, winter peas, clover, brassica, chicory and plantain, will convince deer to graze on and around your food plot year after year. That's because a food plot filled with oats, rye, brassicas, peas, clover, rape, chicory and plantain provides more nutrition and palatability than solo grains, like corn and soybeans 
Food Plots Can Be Planted In 
Hard-To-Grow Areas
Shady areas and spaces that aren't easily accessible make some of the best food plots. PlotSpike offers several varieties that make out-of-way, shady spots perfect for drawing deer. Containing a delicious mix of Poa Trivialis, hard fescue, Winfred forage turnip, Ladino clover and plantain, PlotSpike Shade Blend is perfect for those plots located in deep shade. It requires only four hours of sunlight a day to survive and can be planted with minimum tillage. Plant it along field roads or in small clearings and you'll be rewarded with a lush food plot.  PlotSpike Quick Stand No-Till Blend was designed especially for those spots where heavy equipment can't reach. It contains forage tetraploid ryegrass, fast-growing annual clovers and rape brassica are expertly blended to create a forage seed that requires no tilling before planting. Just because it's easy to sow, doesn't mean it lacks nutrition. PlotSpike Quick Stand No-Till Blend delivers high levels of protein, carbohydrates and minerals. 
Food Plot Planting is Similar to Field Planting
The agricultural requirements of a food plot are similar to planting fields of corn, soybeans and wheat. Before planting, your soil should be tested and any lime or fertilizer added. It's a good idea to rotate your food plot seeds to reduce the chance of the soil being depleted of one or more micro-nutrients. Depending on the blend, a 40-pound bag will plant a half to full acre food plot. 
Find the 
PlotSpike
Blend for Your Food Plot
All Ragan & Massey seeds are sourced, produced and packed by Ragan & Massey. We know the origin of our seeds and the genetic capabilities of our varieties. With several varieties developed exclusively for our customers, we are confident that our pure, proven and premium seeds work, with no fillers or unnecessary coatings. That's why all our seeds for food plots are 100 percent guaranteed. Go to Where to Buy to find your seed blend.