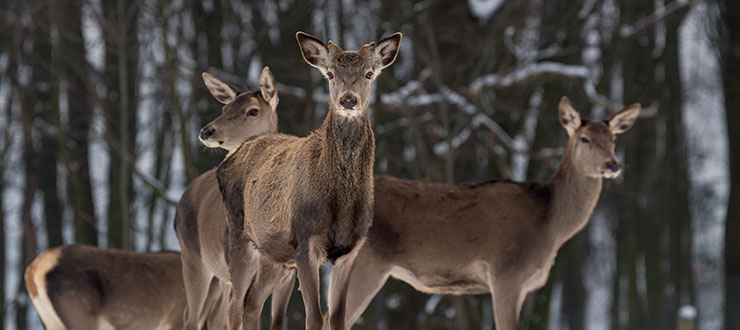 November 14, 2019
With the 2019 – 2020 deer hunting season on the downslope, many hunters are still hoping to bag a buck. If you're one of them, there's still time to finish the hunting season strong with the help of PlotSpike. 
PlotSpike is Ragan & Massey's high-quality forage seed that attracts deer to your food plot. Our seed is developed without fillers or unnecessary coatings. And, luckily, there's still time to bring in that prized buck. 
Here's 
what
 to Use
PlotSpike Clover Blend is a good choice for late-season planting. Clovers are a cool-season legume that can be planted until the middle of November. Clover is tender and palatable and provides high levels of protein and carbohydrates that deer populations love. Plus, clover plays host for nitrogen-fixing bacteria, which help maintain critical nitrogen levels in the soil. 
We also added chicory to this formula as the second ingredient. Chicory is used in New Zealand as forage on commercial venison farms. It has an elongated leaf and produces a taproot that allows the plant to better survive periods of drought. Plant Clover Blend alone at four pounds per half-acre or with 30 to 50 pounds of ryegrass or small grains at four pounds per acre. 
Or try New Zealand Blend. Perfected half a world away in New Zealand, the forage type rape, kale, and clover we use in this mix make a cold-tolerant, nutritious and palatable food plot. It's been proven on commercial venison farms across New Zealand and is guaranteed for our customers across the South. 
This mix has a very high seed count with more than 250,000 seeds per pound. Allow it to reseed with adequate moisture and it can produce healthy fall, winter, and spring forage for years to come. Plant four pounds per half-acre on a well-prepared seedbed, no deeper than a quarter inch.  
Start Prepping for Next Season
It's never too early to start preparing to have a great food plot next year. We have a wide variety of PlotSpike blends that will set you up for success.  
Forage Complete contains both annual and perennial plants for a year-round food plot. It contains wheat, rye, PlotSpike Forage Oats, winter peas, clover, brassica, chicory, and plantain. Plant Forage Complete in a well-prepared seedbed no deeper than a half-inch. Apply adequate moisture for proper germination, then lime and fertilize according to soil-test results. A 40 lb. bag will plant one acre.  
Premium Blend will also provide a nutritious food plot for years to come. With the primary ingredient of nutrition-rich Prairie Brome Grass that deer will seek out, this blend also contains forage rape, clover, and chicory to create a smorgasbord of tender, palatable and nutritious deer favorites. Given adequate moisture, this blend will reseed offering excellent grazing year after year. Plant Premium Blend no more than a quarter-inch deep in a well-prepared seedbed after seed heads mature. Four pounds will plant on half-acre. 
All of our PlotSpike blends can be found on our Where to Buy page.