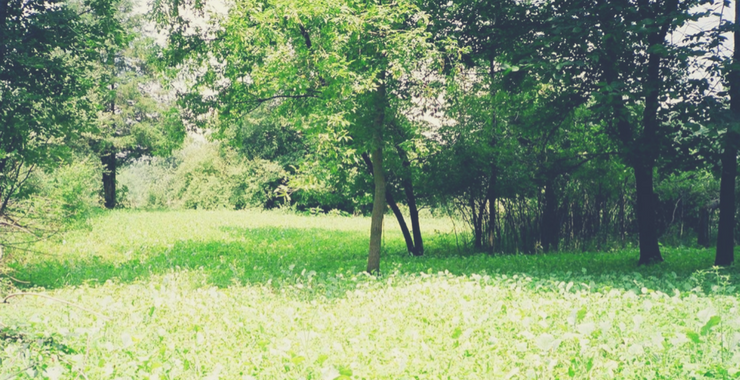 July 31, 2017
One of the best rewards in the fall is being able to trade early mornings in the tractor for early mornings in the treestand. We know we're not alone as we gladly switch our work jeans for camo and blaze orange; harvest-turned-hunting season is one of our favorite times of the year.
Of course, hunting is more fun when there is something to shoot, and that's why foraging plots are so important. They ensure deer receive adequate nutrition, say within their home turf, and don't damage surrounding trees and flora. Our entire PlotSpike line provides a huge variety of seeds and planting methods for every kind of food plot, whether you are planting along a tree line or out in an open field.
Knowing which forage depends on how well you know deer and how well you know your land.
Deer live on the edge.
Whitetail deer eat nine to twelve pounds of green foliage per day. That's a lot of salad. By their nature, deer don't like to graze for too long in one place, regardless if they are hungry or if the food source is exceptional. After all, deer that stand too long don't live too long. It's also why they tend to stick to the borders of food plots; it tends to be a good mix of natural plants and sourced plants, resulting in a more diverse diet that is better for a deer's rumen. Keep them coming back with a deer food plot mix that delivers delicious nutrition in high-intensity mouthfuls.
Home on the range.
Deer are instinctively drawn to their adult home ranges, even if foliage is scarce and even if there are better food plots just a mile or two away. Expanding this home range is difficult, but convincing them to shift their focus within their comfort zone is possible, as long as you provide year-round quality food plot foraging.
Made in the shade
Shady food plots are ideal for no-till forest clearings, along field rows, and for areas where you are desperate for some deer activity. You'll usually need at least 4 hours of sunlight for robust plants, but blends like the PlotSpike Shade Blend, which includes Winfred forage turnip, Ladino clover, and plantain, ensure deer get adequate nutrition in full cover.
Deer aren't the only animals that benefit from food plots; turkeys do, too. When planted in the spring and summer, turkey food plots can provide palatable nutrition long after the fall and winter plots have gone dormant.
Stop hunting for the right blends of seeds, and start hunting for your trophy wall. Learn more here.