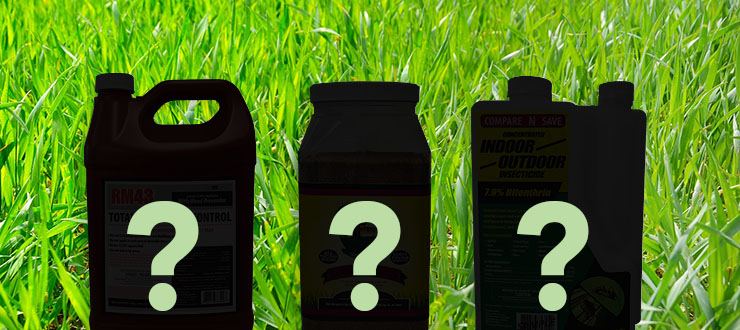 March 21, 2019
Lawn care isn't easy, it takes know-how, diligence and patience. Luckily there are a few great products that make you look like a pro!
Weed Killers
Anybody who grew up pulling weeds knows how tedious the task can be. Similar to emptying a bucket of water with a teaspoon, it's never-ending. Herbicides keep a lot of weeds under control in one easy shot that's heads and tails better than pulling by hand. What's more, some weeds have such intricate root systems that pulling will never completely rid them from your yard. Try these products instead:
RM43: Made with 43 percent glyphosate, RM43 offers total weed control for up to a year. It not only kills more than 150 existing weeds, brush and vines, but when sprayed on bare ground keeps those weeds in check, for months. RM43 is rainfast in two hours.
RM18: RM18 is the perfect combination of fast-acting and long-lasting weed control. RM18 is a total weed control solution for brush, broadleaf plants and grass. Since it contains 18 percent glyphosate, it only kills the vegetation, leaving the soil intact.
Brushtox: This systemic herbicide kills more than 60 woody plants, including mesquite, oaks, locust, wild rose and sweetgum, and more than 30 broadleaf weeds, like Canada thistle, milkweed and dog fennel. Brushtox can be applied directly to foliage, to a cut stump or as a basal bark treatment. Since Brushtox targets broadleaf weeds, many natural grasses won't be harmed.
Insect Control
You look at your lawn and see a lush, green carpet your family can play and relax on. An insect sees a smorgasbord. Grubs and billbugs eat the roots while armyworms and caterpillars eat the stalks. And do you know what eats grubs? Moles. Don't forget mosquitoes, fleas and ticks all love to live in your lawn. Evict them all with these products.
Compare-N-Save Lawn Insect Control Granules: Used as a broadcast treatment, this insecticide will treat your entire lawn or a mound for six months of residual activity to control foraging fire ants. It also controls weevils, centipedes, pillbugs, scorpions, fleas, ticks and more. For best results apply it when temperatures are between 65 to 80 degrees.
Compare-N-Save Fire Ant Killer: Fire ants are literally a pain. Compare-N-Save Fire Ant Kills stops them from progressing and prevent re-establishment. The granules can be applied directly to the mound and/or mixed with water to allow the insecticide to flow into the tunnels.
Compare-N-Save Indoor/Outdoor Insecticide: This concentrated product can be applied to lawns, around the outside of the house and ornamental garden areas. It may also be directly applied to trees, shrubs, foliage plants, nonbearing fruit and nut trees and flowers. It controls ants, mites, mosquitoes, scorpions, spiders, ticks, wasps and many more.
Turf Seeds
Great lawns start with great grass seed. Choosing the right seed helps your lawn flourish despite poor soil, lack of water and heat.
Overlawn: This blend was developed for golf courses. It is premium ryegrass that gives southern homeowners a rich, dark lawn that lasts all winter.
Mayberry: Mayberry offers several types of seed including Bahia, Bermuda, centipede, fescue, ryegrass and a sun and shade mix. Our Mayberry seed stands up to the harshest climates.
TriPro: The premium overseeding product stands up to intense use. It was developed for golf courses, athletic fields and much loved, but much used, front lawns. It can take what families dish out.
All of these timesaving products work to minimize your garden chores and leave you with a beautiful lawn, we guarantee it. See where to buy them here.