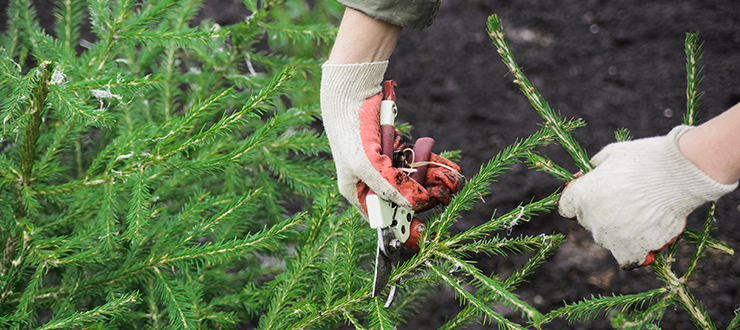 December 27, 2019
The New Year is here and if you're resolving to have a new, beautiful lawn, you've stumbled onto the right blog. A thick, green, healthy lawn doesn't just happen; it takes a lot of work. Doing some prep work now in colder months will mean you'll be ahead of the game by the time spring is in full swing. 
Do Some Pre-Spring Cleaning
Take advantage of breaks in the weather to clean up leaves, twigs, branches and other bits that have gathered these last few months. Not only is debris unsightly, but it can also prevent lawn applications (fertilizer, weed killer and seed) from doing their full job.  
Prepare the Trio 
The best way to get your lawn looking fantastic this year is by applying a trio of fertilizer, pre-emergent, and crabgrass preventer. Fertilizer gives your lawn a nutrient boost to get the growing process started fast. Pre-emergent weed control ensures weeds won't benefit from said boost because it stops them before they can sprout. And crabgrass preventer means you won't be fighting thick, unattractive crabgrass patches all summer long. For a great crabgrass preventer, try our Compare-N-Save Crabgrass & Sandbur Preventer. It works on established warm-season turf (Bahai, Bermuda, buffalos, centipede, St. Augustine and Zoysia) to control annual grasses like crabgrass, foxtail, wild oats and broadleaf weeds like carpetweed, chickweed, and spurge; it becomes activated with water. It also works wonders to use around fall-planted bulbs to keep spring beds weed-free. 
Think About Lawn Edging
Flower beds, fence lines and other edges of your lawn can easily get overgrown during the growing season. Now is the time to trim back bushes, spray weed killer and lay down new mulch. Use Compare-N-Save Weed & Grass Killer to get the job done. This product is a quick-acting herbicide that kills weeds, roots and all. It enters the plant on contact and immediately gets to work. You'll see visible results within hours. Use a hand-operated backpack sprayer or pump-up sprayer to only target the plants you want dead, giving you control to avoid the plants you don't. This product works best when the temperatures rise, so either use it on a warm day or keep it on-hand so it's ready to go when spring arrives.  
Have a Lawn Weed Killer Ready
Even if you apply a pre-emergent herbicide, it doesn't mean you'll eradicate every single one of your lawn weeds. Be sure to have a bottle of Compare-N-Save Weed Killer for Lawns in your arsenal. This product eliminates tough weeds like dandelion, chickweed and lambsquarter, creeping Jenny and ground ivy, without harming your grass – guaranteed. It's fast-acting and is rainproof in just one hour.  
Preparation is the key to lawn maintenance. By starting now, you'll be rewarded with a new lawn come spring. You can find where to buy all these products on our website.