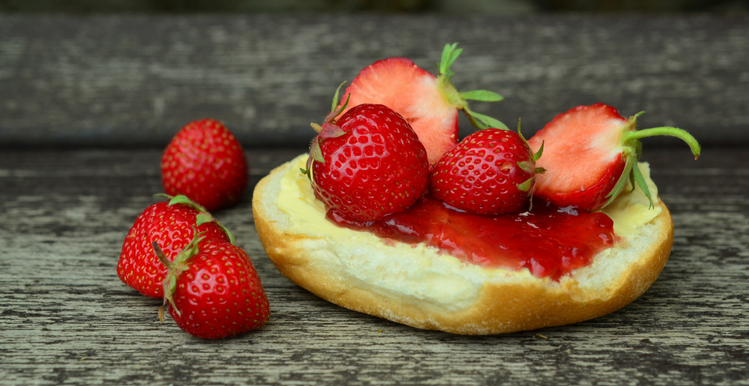 April 20, 2017
As soon as the world sheds its dull gray for green, we at Ragan & Massey start looking ahead to a prolific crop of farm-fresh goodness. But mostly strawberries. Especially jams. Because strawberry jams are the best.
Keeping fresh strawberries around all year long is the fun part with jams. We've gathered some of our favorites, from traditional to unconventional (but incredibly delicious), and we are as excited to share these with you as we are ready for the first crop. Early June can't get here fast enough!
Ree Drummond's strawberry jam is about as classic as it comes. Strawberries, lemon juice, fruit pectin, and sugar combine for a taste of early summer that lasts all year long. You can play with the sugar a bit in this recipe (it's definitely sweet) and enjoy it atop your morning toast, biscuits, or baked brie.
Or, you know, right out of the jar.
If you love a strawberry for its simple sweetness, this recipe from Adrian Harlan at Living Healthy With Chocolate is the way to go. With no added sugar and just a tinch of lemon juice, water, and arrowroot powder, this strawberry jam recipe celebrates the little red fruit's natural flavors and is plenty sweet on its own due to the cooking process. The arrowroot powder, used to thicken the jam, can be found online or at most health food stores.
For best results, use ridiculously ripe strawberries (if you can keep from eating them on their way to the saucepan).
Strawberries and chocolate go together like two lovebirds on their first date—or their 50th one. Keep the romance alive by enjoying the combination every time you feel you need something a little dark and sweet. This recipe makes very easy work of the process; it's two ounces of bittersweet chocolate bring a strong and lovely quality to the mix, and there is plenty of sugar to balance out the flavors. It's a little thicker than most jams, but still completely spreadable, especially over hot homemade bread toast.
This best-of-summer jam from Southern Living combines strawberries and blueberries in one of the easiest recipes we've found yet. Simply toss everything into a crockpot, cook, cool, and pour into jars. Less sugar and more flavor than most homemade strawberry jams, this recipe is a great one to give away as gifts or freeze for later. Get your biscuits ready. This one is berry delicious!
Yes. You read that correctly. And your life will never be the same.
Alice Seuffert of Dining With Alice, developed her Strawberry Bacon Jam after she felt her Peanut Butter Burgers were missing something. What she uncovered was a serious piece of mastery; the saltiness from the bacon brought out the natural goodness of the strawberries, and the molasses in the brown sugar tied everything together in a happy sweet-savory matrimony. This jam tastes great on grown-up peanut butter and jelly sandwiches, goat cheese on crackers, and cream cheese on bagels. And spoons.
Have you planned your spring and summer plantings yet? We love it when a garden comes together, which is why we have so many products geared toward helping you grow what you want while removing the bugs and weeds you don't.
Here's to the next delicious harvest!
Need help with the insects in your garden? Check out our latest products here.