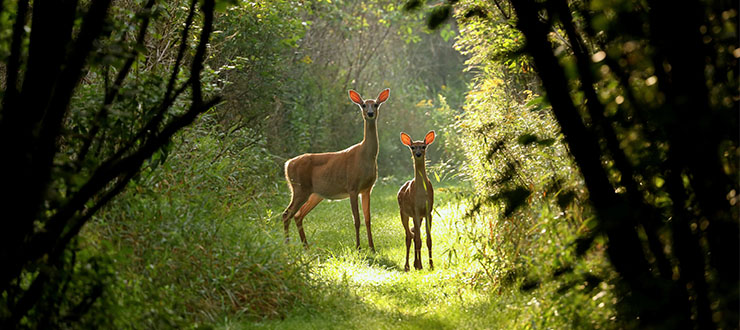 October 23, 2019
PlotSpike is our premium blend of high-quality forage seeds for planting wildlife food plots. It is a leader in the food plot seed industry and has been providing seed to customers across the southern United States for more than 20 years. Once in a while, we get asked questions about this product and how to use it. We answered the top five questions about PlotSpike below. 
Can I plant 
PlotSpike
 in the shade?
Yes! If you've got four hours of sunlight, you can plant PlotSpike Shade Blend. This blend thrives in low sun and can be planted with minimum tillage. It's the perfect solution for that plot that's out of the way, but you've just got to have – like a small clearing deep in the woods or along rarely-traveled roads. When you do go to plant, remove any leaves on the ground in the food-plot area, sow the plot, and then barely cover the seed. If it is very shady, the seed may be slow to establish and may not be as tall as plots planted in the sun. 
I have an area I can't get to with machinery; can I plant 
PlotSpike
 without tilling the soil?
Yes! PlotSpike Quick Stand No-Till Blend is the answer. It is perfect for those difficult to access locations but doesn't skimp on nutrition. This blend contains premium ingredients like forage tetraploid ryegrass, fast-growing annual clovers and rape brassica that deliver high levels of protein, carbohydrates and minerals. Simply use a hand spreader to spread seed over existing vegetation, there's no need to disc or turn the soil first.  
Is there still time to plant a food plot?
Yes! We developed our PlotSpike Forage Feast to quickly germinate in a wide variety of soil conditions. Add a high-nitrogen fertilizer when planting Forage Feast and the product will work even better. This blend features our exclusive Forage Oats along with smaller grains, premium forage rape, clover and Austrian winter peas that provide palatability, protein, digestibility, and hardiness. 
Do you have formulas to attract turkeys?
Yes! We offer two different blends to attract turkeys. The Spring & Summer blend provides quality forage when competition from natural browse is most intense. It is a combination of forage soybean and millets and will not only attract toms and hens but deer and wild hogs. Our Chufas blend offers a plot filled with the nut-like subterranean tubers that wild turkeys love. Plus, once established, a chufa food plot will last for years. 
Does 
PlotSpike
 have any fillers or coatings?
No! Ragan & Massey is a member of the Louisiana Seed Association and the Southern Seed Association. We take tremendous pride in our seeds. Not only do they never contain any fillers or coatings, but we source, pack and produce all our own seed so we know the exact origin and genetic capabilities. We 100% guarantee the quality of our seeds. 
And here's a bonus question – Where can I buy PlotSpike? PlotSpike is available both in-store and online. You can search for a retailer near you to buy it in-store or buy it online from Amazon or Tractor Supply Co. If you have more questions than the ones we've just answered, feel free to call us at 800-264-5281 and we'll be happy to answer your questions.