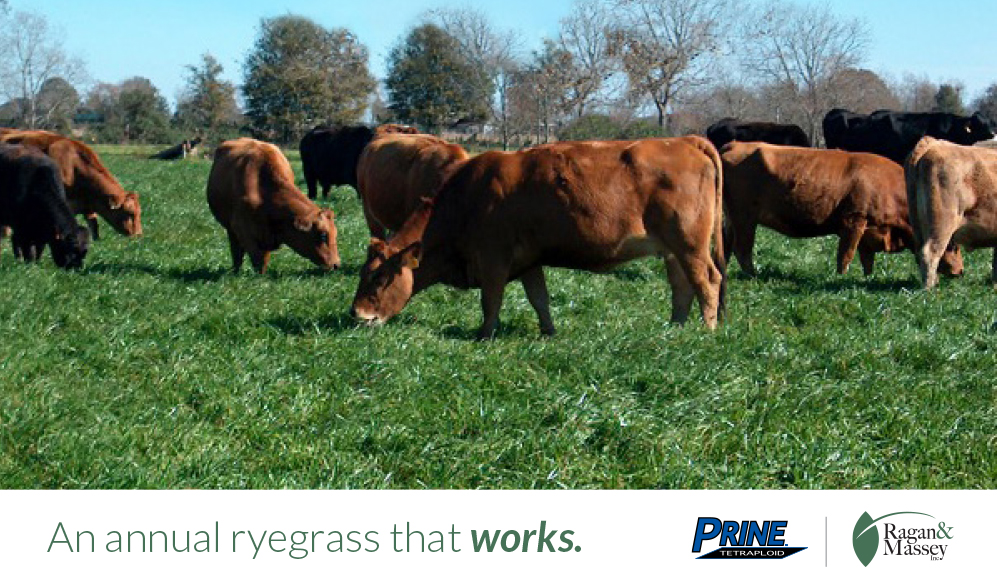 August 17, 2016
When it comes to winter forage in the Southeast, it's hard to argue with annual ryegrass. Widely grown in the southern U.S., ryegrass has become an important component for forage-based livestock diets, and it's only becoming more popular. According to the University of Florida, more than 1 million hectares of annual ryegrass are grown in the Southeast, from eastern Texas and Oklahoma to the southern East Coast, every year.
Ryegrass has been adapted to many soil types and provides proven animal performance with extended grazing periods throughout the mild southern winters, making it a perfect winter forage. It's become a much-sought-after cool-season forage throughout the region due to its production.
Ragan & Massey is proud to offer Prine™ Tetraploid, the most recent commercially available ryegrass variety developed by the outstanding University of Florida ryegrass breeding program. This high-yield, rust- and disease-resistant tetraploid variety delivers the proven results you need. There is no better combination of quality and yield, and recent trials prove it:
Yield trials prove Prine works
Prine has been proven to work time and again, all across the southern United States.
Calhoun, Georgia, Dry Forage Production

Franklinton, Louisiana, Dry Forage Production
Griffin, Georgia, Dry Forage Production

Click here to learn more about Prine, and get the job done right.
Follow Ragan & Massey!
Be sure to follow Ragan & Massey on Facebook and Twitter for daily updates, and check back here every week for more in-depth expertise, advice and product updates.