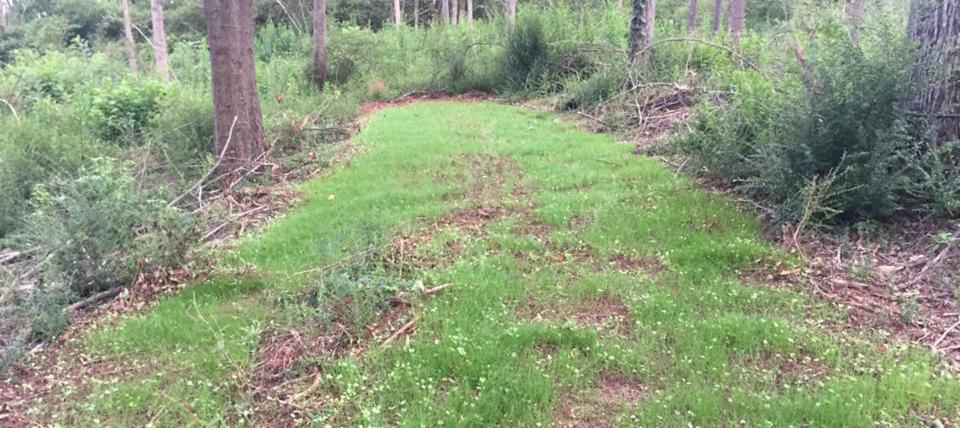 August 30, 2018
The best fall food plots, the ones that draw in the most wildlife, are usually located in an out-of-the-way spot that has never seen any type of landscaping. One of the biggest tasks when planting a food plot is clearing the area of existing brush, vines, grass and weeds. The second being getting your forage seeds to grow successfully. Ragan & Massey has products that will make both of these tasks a snap, setting up your food plot for success.
Clear The Area
Clearing a path of overgrown weed and brush may seem like an insurmountable task. Not only that, but you want to get planting ASAP. Not to worry. Ragan & Massey has a couple of herbicide options that will take your plot from wild to tame fast.
RM18 quickly kills brush, broadleaf plants and grass all while leaving fertile soil available. It kills on contact, is rainfast in 30 minutes and lasts for six months. It is safe to plant after three days.
Compare-N-Save Quick Acting Weed & Grass Killer is effective on the toughest weeds and vines like kudzu, wild blackberry, poison ivy, poison oak, crabgrass and dandelions. It also enters just the plant's foliage, leaving the ground untouched. Just like RM18, Compare-N-Save Weed & Grass Killer is rainfast in 30 and lasts for six months.
Plant The Seeds
Once you've completed the task of clearing the area, the next step is to use a seed that's proven to produce a successful plot. Our PlotSpike seeds are pure, proven and have no fillers or unnecessary coatings. Plus, there are several varieties to choose from depending the wildlife you're trying to attract and plot conditions.
PlotSpike Shade Blend is the solution for hunters looking to plant a shady food plot. This complex blend contains a hard fescue, Winfred forage turnip, Ladino clover and plantain. It only requires four hours of sunlight a day to grow and survive.
PlotSpike Quick Stand No-till Blend is the answer to plots located out of reach of heavy tilling equipment. Simply spread the seed and be rewarded with a plot of ryegrass, clover and rape.
Sit Back And Relax
Because you've used Ragan & Massey's best products to make short work of your food plot prep, you can pretty much sit back and watch your food plot thrive. Many of our PlotSpike blends provide forage for up to 12 continuous months so they can be used from one hunting season to the another.
Don't take a chance on your next food plot. Start with the best products in the beginning to yield the best results. Go here to find where you can buy all of these products.