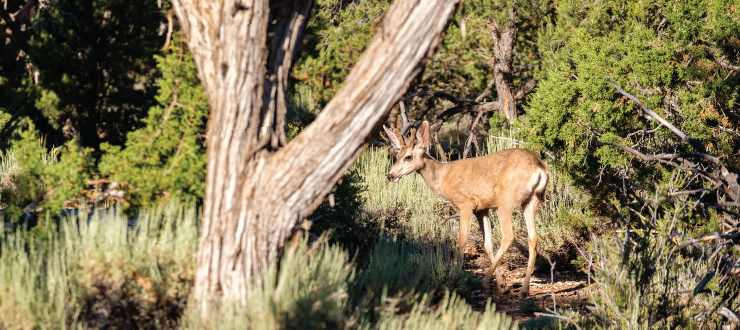 August 27, 2020
For hunters that have never utilized a food plot, you're missing out. A food plot is designed to draw deer, turkeys and other game to your property, i.e., your stand. But they are also very beneficial to the local game populations because of the supplemental nutrition they provide. This extra nutrition helps local game populations feed their young, develop throughout the summer and get them through the winter. Food plots encourage higher or healthier game populations.
But maybe more than the benefits to the deer are the benefits to your property. Planting a food plot gives you the opportunity to get your hands in the soil and produce something beneficial for the environment. Deer that are given adequate nutrition are less likely to damage the surrounding trees and flora. And food plots offer both erosion control and provide nutrients to the soil. 
PlotSpike offers several varieties based on the game, location or sun exposure, ensuring there's a blend that will work for you.
Need to plant a food plot in an area with a wide range of soil conditions? PlotSpike Forage Feast is the answer. PlotSpike Forage Feast germinates quickly and offers excellent performance in a wide range of soil conditions. Free of fillers or chemicals, Forage Feast includes our exclusive Forage Oats are paired with smaller grains, premium forage rape, clover and Austrian winter peas to provide a literal feast for deer. 
Spring & Summer Blend is a filler- and chemical-free combination of forage soybean and millets that works primarily on turkeys but has also been known to attract deer and wild hogs. Few naturally occurring or cultivated plants provide the palatable, nutritious grazing that this mix does.
There may be areas on your property perfect for a food plot but inaccessible to a tractor or tiller. PlotSpike Quick Stand No-Till Blend is the solution. Containing forage tetraploid ryegrass, fast-growing annual clovers and rape brassica forage seed, this blend requires no tilling before planting. It was designed especially for those spots where heavy equipment can't reach. Just because it is easy to sow, doesn't mean it lacks nutrition. PlotSpike Quick Stand No-Till Blend delivers high levels of protein, carbohydrates and minerals.
Shady food plots are ideal for no-till forest clearings, along field rows, and for areas where you are desperate for some deer activity. You'll usually need at least four hours of sunlight for robust plants, but blends like the PlotSpike Shade Blend, which includes Winfred forage turnip, Ladino clover, and plantain, ensure deer get adequate nutrition in full cover.
Go to our Where to Buy page to find your perfect PlotSpike formula.
---
For best results when using our products we encourage our customers to read the product labels in full before using.