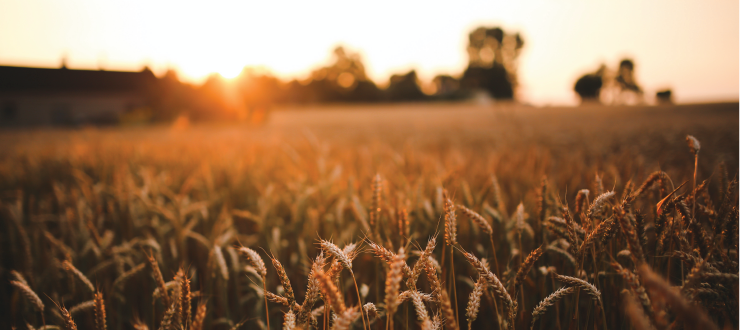 October 7, 2020
The leaves are turning, there's a cool nip in the evening air. It's that time of year again. It is harvest time. Farmers across the country work diligently all spring and summer to finally see the fruits of the labor come fall. While many see fall as a time for putting up pumpkin-adorned decorations, going on hayrides, apple picking and spreading pumpkin spice-flavored scents liberally around their homes, the season means something completely different for farmers. Fall is the busiest, most stressful time of the year and it not only affects the farmers but their families as well.
18-Hour Days
Days during harvest time, a farmer's day starts before the sun comes up and ends long after it has set. Farmers have to work fast during harvest. Everyday farmers race against Mother Nature's clock to get as many crops out of the field once they've reached optimate dryness. They must work around rain showers because crops need to stay dry. If grain is put into a storage bin when wet, it will get moldy and rot. Mud prevents combines, tractors and grain carts from getting into the fields to do their jobs. 
Other types of severe weather can damage crops as well. Heavy winds can push plants over. Late-season insects can eat their way through yields. An early frost is a death sentence for fragile plants. And not only are farmers on choppers pulling crops from the fields, but many also plant crops that will be ready for spring, like winter onions, garlic, peas, broad beans, root vegetables and cabbage. Let's not forget farmers also must prepare for the cold days ahead. While most of this work falls squarely on the farmer's shoulders, their families play a huge part.
A Family Affair
There's a running joke that harvest time makes widows out of farmers' wives. Farmers can't leave the field for a couple of hours to attend school events or football games. They don't get to sit down to dinner with their family, more likely their partners bring them a sack lunch they eat in the cab of the tractor or combine. For weeks, spouses put kids to bed, take care of the house and other areas of the farm all on their own. They run to town to grab parts for tractors that need to keep running. Farmers' families also pitch in during crunch time to drive rigs and haul grain. Harvest time is a family affair and without that support, the work would be much harder.
Truly Essential Workers
All of this hard, lonely work is done because farmers are truly essential workers. Without them, we don't eat. Our animals don't eat. Crops feed us and the livestock that's so important in many of our diets. Farmers don't get to be sick. They work through all types of illnesses, even the pandemic. So, thank you to all of America's farmers. The work you do is acknowledged and appreciated. 
Ragan & Massey supports the American farmer. Our products help them do their work better and faster. Visit our Brands page to discover all of the ways that Ragan & Massey can help you get the job done right, every time.