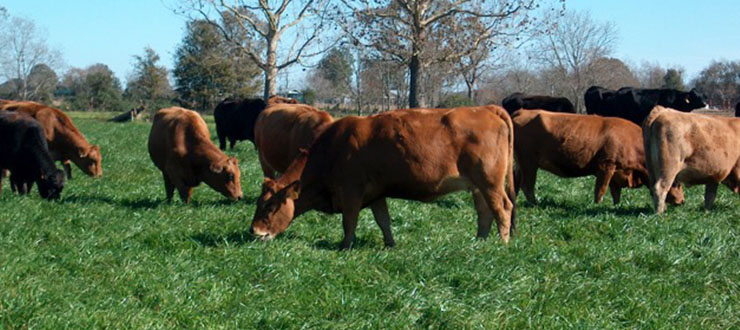 October 8, 2019
Farmers across the southern United States depend on winter grazing to provide a healthy diet for livestock until spring. Why?  Winter pastures help stretch stockpiles of hay, saving farmers money and time by allowing cattle, sheep, horses and goats to graze far beyond the normal growing season.  So now that you're on board with putting in a winter pasture, how do you ensure your winter pasture is the best it can be?  Our best tip for premium winter forage is to start by planting Prine. 
Prine
 is the Best Forage Seed. 
Period.
Ragan & Massey has a personal stake in Prine.  We developed Prine Tetraploid using the University of Florida's outstanding ryegrass breeding program (one the best in the country).  It produces high yields and is rust and disease resistant.  And we've got the research to back it up. 
Prine was put through Yield Trials to gauge its performance.  The results are as follows: 
Calhoun, Georgia
 
Franklinton, La.
Griffin, Georgia
 
Nutritious
, Beneficial
 Winter Forage
Prine doesn't skip on nutrition as annual ryegrass is highly digestible and palatable.  It's perfect for animals with high nutritional requirements, even dairy cows. 
But beyond its nutritional value, Prine is beneficial to your soil. Its extensive, soil-holding root system fights erosion while filtering water and enhancing soil tilth. As a bonus, planting a pasture with Prine helps to fill bare ground, keeping spring weeds at bay. 
Get Planting with 
Prine
Your dreams of offering your livestock winter forage are still possible.  Mid-October is the ideal time to plant Prine. Planting now ensures enough growth to give your livestock a well-established pasture to graze on all winter.  And Prine establishes quickly in many soil types.  
Get ready to have the best winter pasture with Prine.  Find where to buy it from our many dealer locations. Let us know what you think!