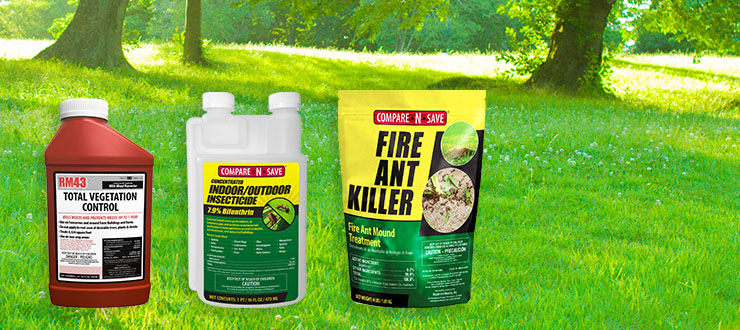 February 20, 2019
Walk into any garden center and you'll find so many rows of herbicides and insecticides, it can be extremely overwhelming for the home gardener! That's because some herbicides claim to kill this but not that. Other insecticides work here but not there. Skip the frustration and stock up on some of our favorite products instead. Our herbicides and insecticides are proven to work, period. Here are three that we think every gardener should have in stock at all times.
No matter which weed you have, RM43 can likely get rid of them. RM43 doesn't just kill one type of weed, it kills hundreds, offering total vegetation control on bare ground or for brush and vine spot control. RM43 kills over 150 weeds, including kudzu, poison ivy and poison oak. Plus, it not only kills existing weeds, but prevents future growth. RM43 is a combination of two herbicides and surfactant. Use it on: non-crop areas, roadsides, curbs, sidewalks, driveways, brick walks, gravel paths and vacant lots to stem the growth of invasive plants. To really prevent weed growth, apply this to areas before laying surface materials. RM43 is rainfast in two hours and there are no entry restrictions to sprayed areas for pets or people after the spray has dried.
Need to kill aphids on your roses and also rid your basement of centipedes? No need to grab two different products, Compare N' Save Indoor/Outdoor has you covered. It protects interiorscapes, ornamentals and lawns from a wide range of pests, including ants, aphids, armyworms, centipedes, chinch bugs, cockroaches, fire ants, fleas, flies, grasshoppers, mites, mole crickets, mosquitoes, scorpions, spiders, ticks and wasps. Compare N' Save Indoor/Outdoor Insecticide can be applied to trees, shrubs, foliage plants, flowers and nonbearing fruit and nut trees. It's also perfect for use under concrete slabs and spot, crack and crevice treatment. This product can be applied indoors as well. Just make sure to cover all food, food processing surfaces and utensils.
Anyone in the southern half of the United States knows just how much of a pain fire ants can be, literally. Stings from these pests are painful, but they are no match for Compare-N-Save Fire Ant Killer. This granular product is applied directly to the creatures' mound. When mixed with water, the insecticide flows into the mound's tunnels. Apply the product in cool weather (early morning or late evening) and say goodbye to these pesky problems. Compare N' Save Fire Ant Killer can also be used on plants, interior plantscapes, ornamental gardens or parks and lawns or grounds.
You can find all of these products on our website plus learn where you can buy them, either in your neighborhood or online. Keep these three products in stock and your next home and garden projects will be a snap.