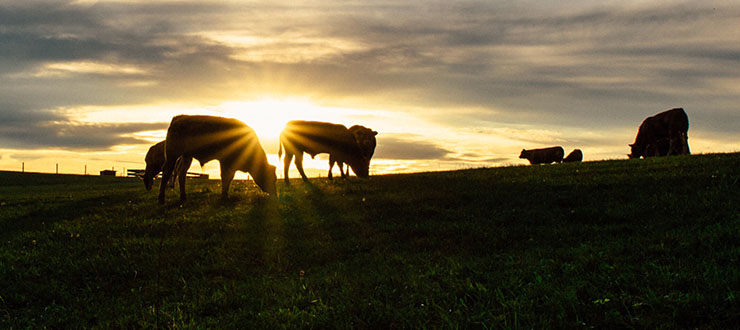 November 26, 2019
Prine. It's Ragan & Massey's proprietary seed blend that offers the best in commercially available ryegrass varieties from the outstanding University of Florida ryegrass breeding program. Our high-yield, rust- and disease-resistant tetraploid varieties deliver proven results for nutritious winter forage. Farmers and ranchers from across the country have long used Prine for pastures that can take the pressure of grazing long into the winter. 
We get a lot of questions about this proven winner. Here are the top three. 
How does 
Prine
 perform in Texas, Mississippi and Florida? 
Annual ryegrass is adapted to the southern U.S. and is grown from the Atlantic coast to Oklahoma and Texas and south to the Gulf of Mexico. Prine, our annual ryegrass blend, was developed from the University of Florida ryegrass breeding program. It was designed to provide results across the southern United States. Yield trials prove Prine produces outstanding dry forage year after year in both Georgia and Louisiana. See the results for yourself that Prine is your winter forage solution. 
How does 
Prine
 do in the cold?
Prine was developed specifically for winter pastures. Annual ryegrass is a versatile cool-season annual grass for livestock producers across the southern United States. Annual ryegrass easily establishes, is highly-nutritious, produces high yields, has the good reseeding ability and adapts to a variety of soil types. Optimal planting time in winter for annual ryegrass is when soil temperatures are between 50 and 65 degrees which usually coincides with daytime temperatures of 60 to 75 degrees. Ryegrass doesn't like extremes; so high summer temperatures in the 90s and low, cold, winter temperatures, can affect how well Prine grows. 
Where can I find 
Prine
?
Prine is available from feed supply stores and co-ops across the southern United States. Simply go to our Where to Buy page and enter your zip code to see where you can purchase it. If you don't see a location, contact us directly at 800-264-5281 and we'll help you find it. 
Prine delivers better grazing, tetraploid vigor, increased plant size, has a high sugar content and wide, succulent leaves, it won't let you down. It will help improve the consistency and quality of the grass available in your winter pastures. Got more questions? Contact us through our website.